The end of 2019 saw a strong finish to the year for IQ Oil Australia (IQA) and that momentum has continued into the start of 2020.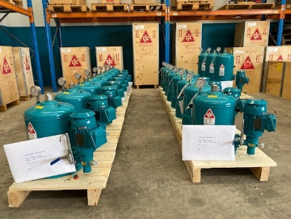 December 2019 saw IQA's single largest order to date get delivered to one of our Queensland mining clients.  The order also saw IQ Oil venture Underground for the very first time in Australia, with the units destined for use on UG Conveyor Gearboxes and Fluid Couplings, with the latter also using Phosphate Ester fluid.
Phosphate Ester fluids present a few unique challenges when it comes to filtration, with the most common problem being related to water contamination.  Phosphate Ester fluids, when contaminated with even the lowest amount of water, begin the reverse esterification process and acid levels will increase.  With a combination of CJC Specialty Inserts, we can treat these common issues with Phosphate Ester fluids, for TAN levels below 1.5 KOH/g, the CJC AMGB 27/25 Insert is used to lower the TAN levels and then upon achieving a satisfactory TAN level, the CJC MSBT 27/25 Insert is used to treat the moisture preventing increased acid levels.
The complete order comprised 19 units in total, with 3x HDU 27/54 PVM and 16x HDU 27/27 PVM CJC Fine Filters.  All units were fitted with PVM pumps that provide a completely sealed pump drive and magnetic coupling, preventing any oil leakage to the electrical motor side.  As well as Stainless Steel fittings and Epoxy Surface Protection which will allow for a simple motor upgrade and these units could potentially be used in areas with hazardous area zoning.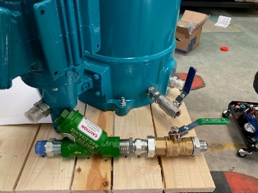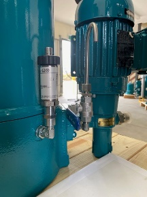 These units, however, were for use in a NERZ area and were installed with Weg W22 Mining Motor rated to IP 66 and are perfect for mine site installations where ingress of moisture and dust can be an issue with standard IP rated motors.  They also included the addition of One Eye Industries Magnetic Y-Strainers and Wika IS3 Pressure Transducers all supplied by IQA as a complete package.
Moving into the new year and decade this momentum is continuing with several exciting orders on the way and will be delivered in the coming months.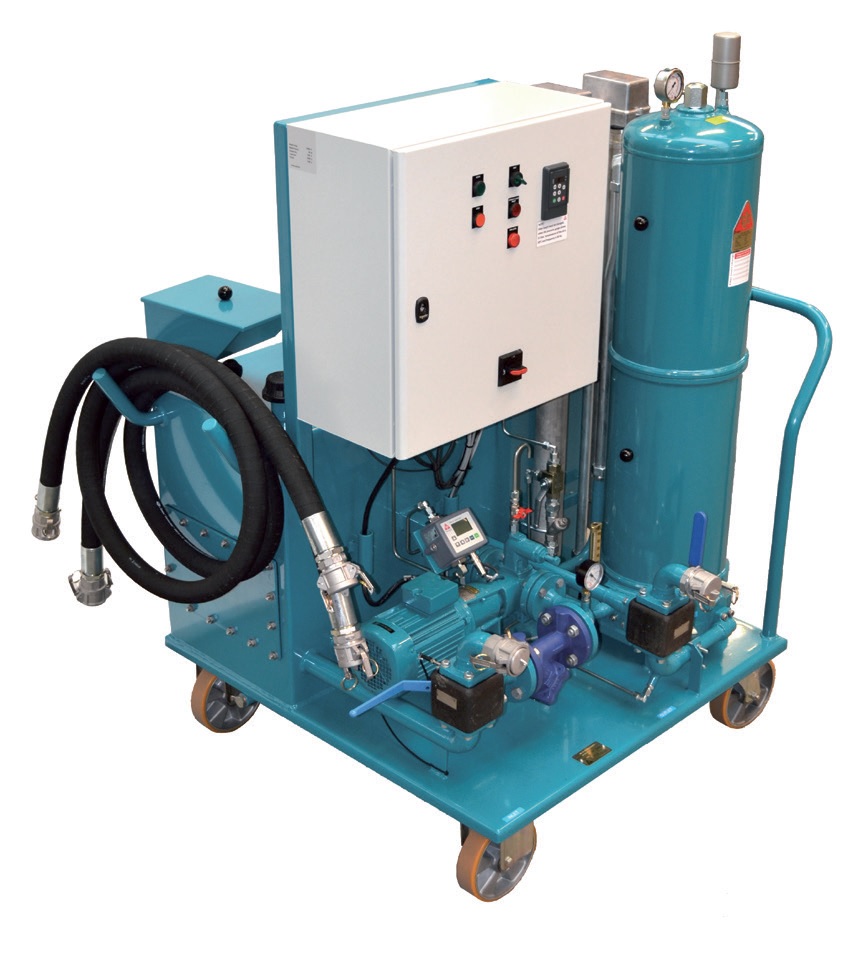 The first of these orders is also the very first CJC Mobile Flushing Unit (MFU) to be delivered into the Australian market.  The CJC MFU is a purpose-built unit for filtration of driveline compartments on Mining Haul trucks that are using high viscosity gear lube oils.  These compartments generally see oil viscosities between ISO VG 320-680 cst that even in warmer climates of Queensland can be an issue for standard filtration units.  Much of the filtration of these compartments is carried out during regularly scheduled services with the MFU designed for both mechanical drivelines and electric wheel motor planetary gear drives.   Smaller haul trucks typically have the electric wheel motor on the outside and the planetary on the inside, making permanent filtration units fitted inside the rear axle possible. In contrast, the larger haul trucks, with electric wheel motor technology, typically have the electric motor on the inside of the planetary making permanent onboard filtration impossible and that's when the MFU is the perfect solution for high-efficiency flushing during service intervals.
Electric wheel motors also traditionally use the heavier ISO VG 680 oils, which when allowed to cool are extremely viscous and are virtually impossible to filter at the micron levels required to achieve the recommended cleanliness codes.  The MFU overcomes this using multiple innovations and technology including a circulation tank, heating, and an automatic VSD.  The mentioned innovation and technology making it possible to create a 200L batch of extremely clean oil which is then used to start the flushing process through the final drives, thereby giving the user a massive head start on cleanliness levels and ensuring exceptional cleanliness results in a limited-service interval timeframe.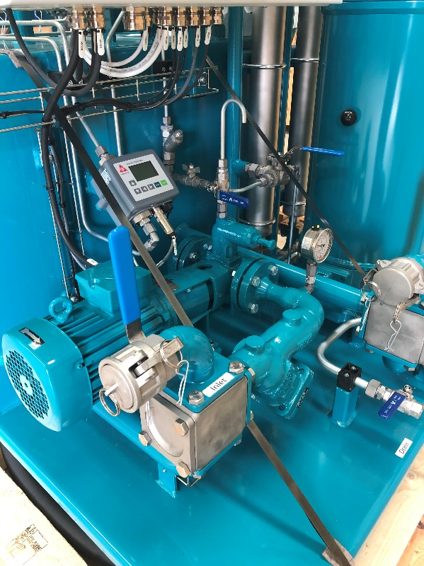 With the high flowrates of the CJC MFU and filtration efficiency of the CJC GFI 27/27 Inserts a Komatsu 930E Wheel Motor planetary can be filtered to acceptable levels is under 2 hours.  The MFU also comes with an optional CJC Online Contamination Monitor (OCM – Particle Counter) which lets the operator know that the desired cleanliness levels have been achieved before moving the MFU to the next compartment.
For mechanical driveline vehicles, such as CAT, the MFU is designed to allow the operator to draw oil from the centre differential housing, filter through the MFU with outlet flow split via a Y-Piece in the return hose, oil is delivered back to the rear housing into both Final Drive assemblies thereby circulating the whole drive compartment.  The CJC MFU is designed to be able to effectively filter a CAT 797 rear housing in a 7-8 hour service window.
These orders, along with the other interesting ones in our pipeline, we believe are a clear demonstration that IQA is gaining a reputation for not only supplying quality CJC products but also possess an up to date knowledge of the demands faced by today's mining operations when it comes to contamination control and the benefits that can be delivered through cleaner fuels and lubricants.
But more importantly, it demonstrates that clients are seeing the value that CJC Filtration Products can deliver to their operation, benefits that go well beyond the IQ Oil Australia promise…
"To always deliver our clients the cleanest possible oil at the lowest possible on-going price"
Those benefits our clients see are far greater than this and it is because the CJC Filtration Products actually deliver the results intended and they do it with far greater efficiency than our competitors in both performance and cost.
The Mining Operations taking delivery of these units will enjoy…
The cleanest oil possible at the lowest possible on-going cost.
Up to 5x Life Extension on their oil.
Up to 5x Life Extension on critical equipment components.
Fewer planned and/or unplanned maintenance equipment stoppages.
Significant reduction in Maintenance Budgets.
Less maintenance of equipment can also improve Safety standards because less work is needing to be performed under the stresses of getting equipment back to production.
Increased production availability of equipment leading to improved production levels.
Improved production levels can only improve the profitability of the operation.
All these things and more can help to make your Mining Operation more sustainable both financially and environmentally.
So if your site is faced with the common demands of increasing production levels through reducing equipment downtime, whilst attempting to reduce costs due to an ever diminishing allocation of funds in your maintenance budget, contact us to today and we can demonstrate to you why these clients have put their faith in IQA and CJC.
Whilst I know IQ Oil is the new name in the Australian market and may still raise the questions, Who we are? Where have we come from?  Can we deliver on the promises we make?
Hopefully, this might give you some confidence…
IQA's sister company IQ Oil South Africa, have also had an amazing start to the new decade.  IQ Oil South Africa has been supplying only the highest quality CJC Filtration Systems backed by their experienced Sales & Support Staff delivering professional service to some of the worlds leading Mining Companies for over 18 years.  The below image shows an order for 12x CJC Mobile Flushing Units along with 15x CJC Fine Filters that are being inspected before delivery across multiple sites for one the  Major Global Mining Houses.

The teams at IQ Oil South Africa and Australia have been hand-picked by management for their industry knowledge, understanding of their local markets and dedication to their clients, so that you can be certain when you chose IQ Oil and CJC that we will deliver.