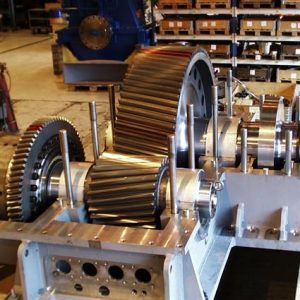 Protect your investment
Reduce risk of breakdowns and off-hire
Optimise efficiency of the vessel
Increase lifetime of gearbox oil
Reduced maintenance costs
If oil in the lubrication systems of gears and bearings in the reduction gearbox is not kept free from particles, oxidation residues and water, they may fail due to particles in oil from abrasive and fatigue wear. Eventually, this can lead to gearbox or bearings breakdown. Repairing or servicing a reduction gearbox is very costly.
When you install a CJC® Oil Filter solution on your reduction gearbox, you save costs relating to service of equipment and replacement of oil in the gearbox. 
CJC® Fine Filters are offline oil filtration solutions with integrated circulating pumps for off-line installation. The filters are recognized around the world as highly efficient purification systems for applications involving hydraulic oil, lubrication oil, gear oil, quenching oil, phosphate esters and more.
CJC® Fine Filters are ideal for controlling oil contamination levels for particles, water and degradation products (oxidation resin/sludge, varnish).