Oil is increasingly stressed as machinery tolerances become finer, often below 3 microns. Since particles of this size can cause immediate breakdown, reducing their number to as few as possible is a priority.
Oil filtration is the most effective and economical way to remove smaller particles effectively. Research has shown that up to 6 times longer equipment lifetime – or even more – can be achieved through effective off-line oil filtration.
Why is CJC® Filtration the best choice?
Most inline filters have around a 200 gram Dirt holding capacity, requiring shutdown of the application each time it clogs, which often leads to filtration running in bypass more often than not. The CJC® Fine Filters are offline depth filters for hydraulic and lubricating oils, to all sizes of oil systems from 2 litres to above 200,000 litres. Our oil filters are installed offline, meaning they are not system critical (e.g. machinery shutdown is not necessary when changing filter insert.) The dirt holding capacity of our standard B Insert to suit a CJC® HDU 27/27 is 4KG Minimum of solid evenly distributed particles it is not uncommon for us to however see these weighing in excess of 10KG once dried in real life applications, this provides an unrivaled return on investment with the ability to retain up to 20x the dirt in comparison to inline filtration.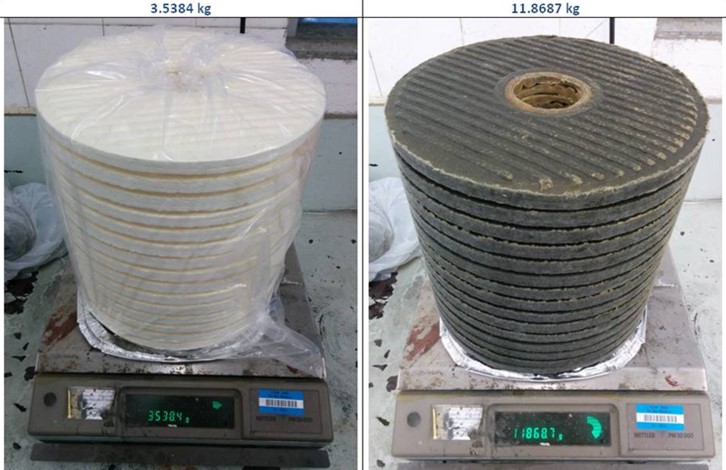 CJC® Fine Filters are offline oil filtration solutions with integrated circulating pumps for off-line installation. The filters are recognized around the world as highly efficient purification systems for applications involving hydraulic oil, lubrication oil, gear oil, quenching oil, phosphate esters and more.
CJC® Fine Filters are ideal for controlling oil contamination levels for particles, water and degradation products (oxidation resin/sludge, varnish).