Water in oil is an almost invisible contaminant with dramatic effects on system efficiency. Water can be seen in some oil samples since it collates at the bottom of the sample glass or reduces the oil's translucency. Small volumes of water can only be detected by analysis.
Water reduces oil's ability to lubricate, which leads to higher operating temperatures, resulting in oil degradation products such as generation of oxidation by-products, resin and varnish. Together with particles, oil degradation products are responsible for micro-pitting on component surfaces.  Another well-known effect of water in oil is corrosion. If water in oil is not removed effectively, equipment lifetime is quickly reduced.
Why is CJC® Filtration the best choice?
CJC deals with water contamination in an application specific way, utilizing many variable technologies to ensure your system stays dry & clean. For small water contamination with no continual ingress we can utilize our standard HDU Filter with a B Insert, this filter insert will hold up to half of it's 4KG Dirt holding capacity of water, absorbing the water in to the cellulose regardless if it's free or emulsified. For a more continual water contamination or treatment of a large quantity of oil where it would be uneconomical to absorb the water out we will use our PTU Filter Separator technology, this uses an insert which filters particles & varnish however does not absorb the water and rather uses an additional coalescing element to separate the water and allow for easy draining, this will work on oils 150 CST and below and only with free water that passes a Demulsification test. Any system that requires on going water contamination treatment, is over 150 CST, or fails the Demulsification test, requires our Desorber, unlike the previous two options the Desorber does not filter particles or varnish and is solely designed for the treatment of water.
Refer video above for more information or alternatively contact the IQ Oil Office to discuss today.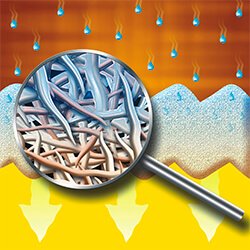 CJC® Fine Filters are offline oil filtration solutions with integrated circulating pumps for off-line installation. The filters are recognized around the world as highly efficient purification systems for applications involving hydraulic oil, lubrication oil, gear oil, quenching oil, phosphate esters and more.
CJC® Fine Filters are ideal for controlling oil contamination levels for particles, water and degradation products (oxidation resin/sludge, varnish).
CJC® Filter Separators are offline oil filtration solutions / oil separators, combining fine filtration with water separation all in one unit, with an integrated circulating pump. They are designed for use in applications containing hydraulic oil, diesel fuel, lubrication oil, etc., in which water ingress is a constant or recurrent problem.
CJC® Filter Separators remove water by coalescence and at the same time minimize oil contamination levels of particles and oil degradation products (oxidation resin/sludge, varnish).
CJC® Desorbers are patented products designed to remove water from oil types which either bind and emulsify water or are high viscosity oil (up to ISO VG 1000).
CJC® Desorbers are ideal for use in applications in which water ingress is a continuous and significant problem, whether for lubrication oil, gear oil or hydraulic oil.
CJC® Desorbers heat oil slightly before it meets a counter flow of cool air in the desorber housing. Air heated by the oil expands, drawing water from the oil. The subsequent air-cooling condenses the water and the dry air is re-used for removing water from incoming oil.
CJC® Desorbers remove water from all kinds of oils effectively and reliably.  The results are measurable benefits that include fewer unscheduled production stops, increased system component lifetime, increased productivity and fewer oil changes